Try Custom Stickers with a Mini-Order from Rockin Monkey
Published on Aug 13, 2023 and written by Josh Bernstein
Any image, drawing, logo, or photograph can be turned into "custom stickers that rock" with a Mini-Order from Rockin Monkey! Choose any of our sticker printing materials you'd like to try. Upload any image, and let us know if you have any special requests. It's that simple to get started!

Mini orders are a great way to see how the colors in your artwork will translate when printed, and to ensure there isn't a major color shift when placing larger orders of the same artwork.
What is a Mini-Order?
A Mini-Order from Rockin Monkey is a small run of 10 stickers in our standard, clear, or specialty materials. These orders are a great way to test how your image will look as stickers when printed on any of our long-lasting materials.

Mini-Orders are also great for testing color accuracy before placing a larger-run order. They also serve as a loophole to our order minimum of 25 stickers, in case you don't need that many!
How many images can I upload?
You can only upload one image per vinyl choice. We are not able to split the 10 quantity between different designs.
How many materials can I choose?
One material per line item in your cart. But, feel free to build as many different Mini-Orders as you'd like! Just make sure to add each one to the cart. 👍
What if my image is wider or taller than 3 inches?
If your image is wider or taller than 3 inches, we will size the artwork (without stretching or changing the proportions. The final size of your sticker will match the square inch of the particular size ordered.

For example: Ordering these 3"x3" stickers will result in a final printed sticker size of 9 square inches. If your artwork happens to be 4" tall and 2" wide (8 sq/in), your final printed size would be 4.25" tall and 2.13" wide.

If you want the longest side of your image to be, at most, the specific size ordered, just let us know in the notes section. This option will increase the final amount of stickers printed. This ensures you receive the same amount of sticker material ordered.
If I send a picture, can you cut around the person in the photo?
Yes, we can cut around the person in the photo! Just let us know in the notes what you'd like to include in your sticker. You'll be able to see how it looks in our proofing portal once the proof is ready.
How many stickers are included in a Mini-Order?
There are 10 stickers included per vinyl type you order.
There's a bunch of white space around my image, is that going to be printed too?
Nope – we will make sure the final printed sticker conforms to your artwork. The cutlines to make the shape of your sticker are made by real humans. So fear not!

However, we have 1/10th of an inch of space surrounding the final artwork as required for our printing and cutting processes. This space can be white, black, or any other color you'd like! If you don't want a white or colored border, we can also "bleed out" the image with most artwork."

Bleeding the image out" is when the background of the uploaded artwork is extended past the cutline of the sticker without compromising the cutting space or your image. Our proofing department will give you that option on your mockup if "bleeding out" your artwork is possible!
Are these paper stickers?
Nope, we offer water and fade-resistant vinyl stickers. Not paper — ever.
Can I see what my stickers will look like before I place my order?
Unfortunately, we don't offer mockups before placing an order. However, we send over a mockup for you within 24-48 hours after placing an order (during peak times, this turnaround time may be slightly extended).

Once you receive your mockup, let us know if there are any changes you want to make. We'll adjust the mockup and send it back to you for approval prior to sending it to production. If, for some reason, we're unable to make your sticker the way you want, we're happy to cancel the order and issue you a refund.

If you do not receive a mockup within 3 days, check your spam folder in your emails. If nothing is found, let us know!
Can you add my social media handle?
Yes, absolutely! Just let us know in the notes that you want to add your social media handle. Make sure to spell-check your tag in the notes, and double-check it on your proof! You can also let us know if you have a specific placement in mind for the added text.
Read more
Published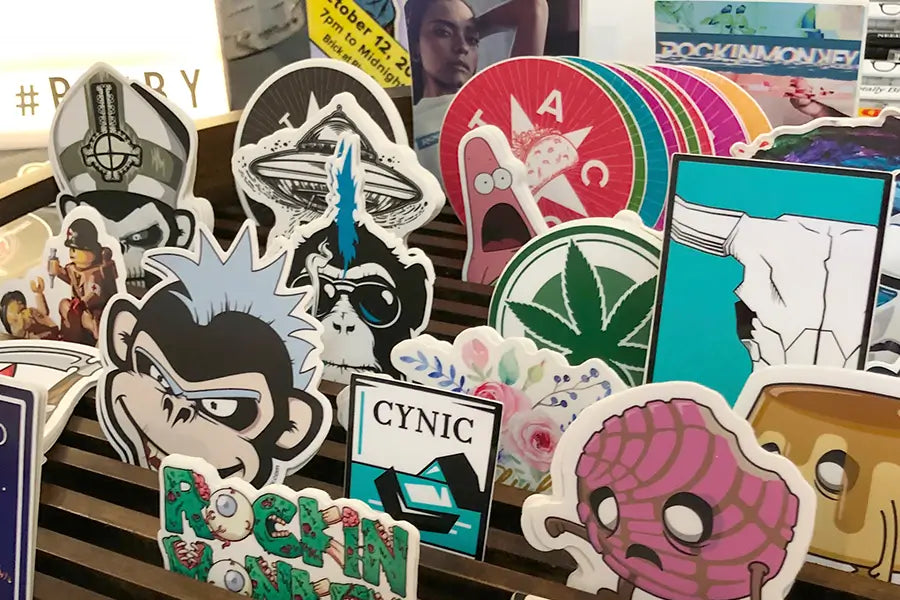 So you want to sell your stickers, but you're not sure what to charge for them. No worries! This post will help you come up with a pricing strategy that'll get that sweet cash coming in.
Read more
Published Nov 13, 2019
Subscribe to Bixby's Blog to stay in the know for all things stickers.